Thule bike racks are expertly designed to make it safe and easy to transport your bike. Whether you have a passion for road cycling or family bike vacations – Thule has a bike rack for every cyclist.
With a car mount for bikes from Thule, you'll be able to cycle on distant roads or bike far from home through wild terrain. Thule's car bicycle racks come in different types and can be mounted on your Roof, Towbar, Rear door and Truck bed. If you already own a roof rack, a roof bicycle rack for cars could be the simplest solution, however a trunk or hitch mounted rack is often easier to load and unload and suits heavier bikes.
Thule Fitments done in store while you wait.
Join Our Mailing List
Sign up to stay in the know about specials and more.
Rack Solid, a Thule and Brink Towbar partner since 2008.
Roof Bike Racks
We know how important your bike is to you. That's why every Thule roof bike rack is designed to ensure maximum protection for your bike. Choose between our iconic fork, frame or wheel mounted roof bike racks – all super easy to mount on your roof racks.
Roof Bike Racks
find the ideal rooftop bike rack to fit your lifestyle.
With a roof rack
You can take your life on tour
With a Thule roof rack, you're all set to head off on your adventures and make sure you have everything you want with you.
When combined with other Thule products, our roof racks are also a starting point for carrying the extra special gear that lets you live your passions – with holders for your bikes, your skis, your canoes or kayaks, and your surfboards. Not to mention extra-secure roof boxes and spacious carrier baskets for special cargos.
Full trunk access with minimal risk of contact with the cargo box, thanks to its forward position on the vehicle roof
Thule's number one priority is safety – for you and the people around you.
Our fit kits ensure your roof rack fits your car as safely and securely as possible. Also, at the Thule Test Center™, our products are only given the official seal of approval once they've survived numerous crash tests, wear and tear simulations, as well as extreme heat, cold, damp, sunlight and even harsh chemicals. All so you're free to concentrate on the adventures ahead.
Towbar Bike Racks
If you're transporting lots of heavy bikes or ebikes on your next family vacation, look no further than a towbar bike rack. Robust and lightweight, these bike racks take seconds to install on your towbar and carry up to 4 bikes.
Towbar Bike Racks
Quick and Easy Solutions For Your Bike
Perfect for a family vacation or a relaxing bike ride with your friends.
Thule EasyFold XT is a fully foldable towbar bike rack that is super easy to store in the trunk of your car and bring on every adventure. These lightweight, sturdy bike racks can carry up to three bikes, including heavy ebikes.
Thule VeloSpace XT is a towbar bike rack that can carry all types of heavy bikes, from ebikes to fatbikes.
With this versatile bike rack you can increase the load capacity to 4 bikes with an adapter (sold separately). Or, turn the bike rack into a rear cargo carrier with the Thule BackSpace XT (sold separately). That way you're covered for any kind of adventure in the future.
Rear Door Bike Racks
Perfect for vehicles without a towbar or hitch, trunk bike racks let you load your bikes at a convenient height. These trunk bike racks are secure, easy to install, and great for relaxing bike trips or serious expeditions.
For easier loading
quick and simple solution
These bike racks are super secure and can be folded for easy storage when not in use.
Thule OutWay Platform is a trunk bike rack with a raised platform design for easier loading, that ensures your tail lights and license plate are visible at all times. They carry up to 2 bikes.
For extra convenience
keeping your bike safe and secure
Perfect if you're not traveling too far
Thule OutWay Hanging is a premium trunk bike rack that ensures your bikes are always securely fastened. They are quick and easy to mount on your trunk and accommodate a range of different bike styles. They carry up to 3 bikes.
Bakkie Bike Racks
Thule bakkie bike racks are a secure way to transport carbon fibre bikes, ebikes and more. Load your pickup with up to 8 bikes and head out on that next bike adventure.
Bakkie Bike Racks
Adventure is the name of the game
Thule Bed Rider is a fork mount bakkie bed rack that keeps your bike secure without any frame contact. Perfect for your most precious carbon fibre bike. Installing it to your bakkie is easy with no bolting or drilling required.
Thule Insta-Gater Pro is an upright bike rack that attaches to the bike wheel and avoids any contact with the frame whatsoever. With this rack you won't have to remove the front wheel. This bike rack can take a heavy load and a range of wheel sizes, perfect for ebikes and fatbikes.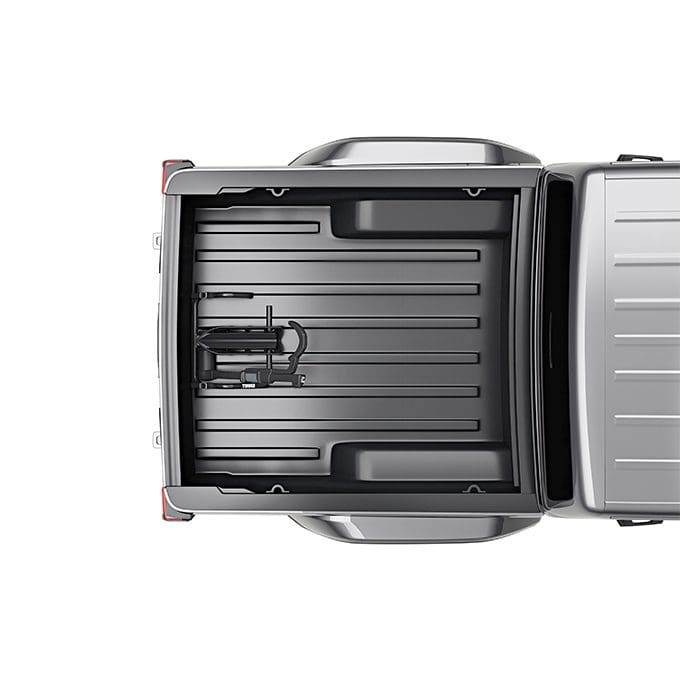 Perfect if you need to help your entire crew transport their bikes.
Thule GateMate PRO is a heavy-duty truck bed bike rack that can carry up to 8 bikes (depending on the size of your vehicle)! Flexible padding ensures the truck and bikes are protected along the way.
Bike Rack Accessories
Thule truck bed bike racks are a secure way to transport carbon fiber bikes, ebikes and more. Load your pickup with up to 8 bikes and head out on that next bike adventure.
Bike Rack Accessories
Get the most out of your Thule Bike Rack
In Need of Repairs or Maintenance?
Rack Solid understands that sometimes things do break, especially when used in such an active lifestyle. That being said, we offer maintenance and repair services across all the ranges and products we keep. Don't settle for second best, Rack Solid is here to give you the best service in the industry.